1991 Oldsmobile Custom Cruiser
A.K.A. Project CC
---
I've wanted a 1992 Custom Cruiser for some time. Limited production and being the last ever rear drive V8 powered Oldsmobile, drew me to this particular year. But I like the 1991's too, very little difference between the two (and only) years.

So anyway, I periodically browse through eBay to see what they have in the way of b-bodies and parts. On 12 May of this year (2005) I came across this '91 CC being auctioned off as a parts car and just over the river in Maryland. Starting bid was $250. I contacted the seller to get some additional pictures (which you can see below) and inquire as to the condition of the car. The seller responded stating that the car was rear ended last winter (2004) and that earlier this spring, the owner ran over a wheel (not tire) that fell off a truck thus damaging the front end.

I began to ponder purchase of the car. I had several days before the auction ended and at this point, there were no bids. I figured for $250 or even $300, I could part the car and make that back and then some. I also began thinking that assuming only panel and sheet metal damage (no frame or major structure) the car could be repaired with minimal work and expense. I inquired of the buyer again asking if the car was mechanically functional. He stated that it was and in fact was still being driven in it's current condition! He also guaranteed in the auction that it would not be DOA.

So I continued to watch the auction until the last day to see if the bidding would drive the price up. Only one bid was made about a day and a half before the auction end. So I put in my bid and won the car for $255. My schedule prohibited me from getting the car until the next weekend so I put down my deposit and planned to pick up the car the following Saturday. Obviously only having the word of the seller I prepared myself to be calling AAA halfway home for a tow and set out with my housemate to pick up the car. We arrived and found the car exactly as described. The engine fired right up and ran very smoothly. With 3/4 tank, I headed the 90+ miles home with Gene following me just in case something broke. Well, the car performed flawlessly and we got the entire way home with no problems. The engine did get a little hot in some slower traffic, this was expected as the shroud for the cooling fan was gone due to the front end damage.

With CC home, I began to ponder it's future. I decided that I'd have no idea of the car's true condition until I got the damaged parts off or opened so I could evaluate any possible further damage. So Memorial Day weekend, I began to take the front end apart. I could see no visual damage to the frame and all of the doors opened and closed without issues. Looking at the rear gate, and crawling around inside and under the car, I figured that the gate itself was totaled but the car was still structurally sound. During the next week or two I debated whether to part the car or fix it up. I came to the decision that I would fix him up and at the very least make a beater out of the car.

Below is a pictoral timeline of the car and it's ongoing status. Click the image for a larger version. Thanks for looking!
Mike
---
now for the pictures

These six photographs were taken by the seller for the auction. Note how far the bumper is pushed up here?

A general side view, doesn't look bad from here! Oh, that's a Caprice grille, not the CC grille.



An interior shot, doesn't show much. The steering wheel leather is ruined though.



Rear view, the rear glass is gone, completely shattered, I'm still getting glass pieces out of the back.



The impact point appears to be right next to the right tail light and based on the height, was probably an SUV. Figures, I hate those things.



Engine compartment. The fan shroud is gone, destroyed by the impact. You can see that the radiator and A/C condenser have been pushed up here by the bent radiator support.
---
Restoration
Getting Project CC roadworthy again
| | | |
| --- | --- | --- |
| Did all this in one day! see the bumper shocks on the ground? The passenger side one was actually TORN off the frame stub. No apparent frame damage though. Radiator support trashed, didn't do any real damage to the radiator or condenser though, thankfully. | I stopped by a local salvage yard near work. They had a rear glass and gate and a Custom Cruiser to boot! Yay! Picked up both and got the glass in. No more plastic! | Got my big screwdriver (translation: pry bar) and got the rear gate opened. Had to tear some of the metal on the gate but figured it's ruined anyway. |
| As you can see the gate posts are bent some. I managed to get them pretty close to straight. I won't be able to tell for sure until the new gate is installed. | On August 6th, I met up with a guy and got a bunch of parts I needed to get the car back together. So I cleaned everything up and started removing the radiator support, it's out here and ready for the replacement part. I cheated and used my floor jack to hold the radiator and condenser up so I wouldn't have to recharge the A/C. I'm so cheap! | Here's the 'new' support ready to go in! |
| New support in and pretty much bolted down! Finally some progress! | Lower fan shroud installed, waiting on replacement (not bent) fan. | Bumper shocks and bumper support installed. |
| Test fitting the bumpercover. Donor car was white so I'll paint it black for now. Won't be quite so obvious! | Bumpercover painted and installed! Cooling fan and upper fan shroud installed. Starting to look like a car again! | Lower air dams installed. |
| Grille installed. This is why the bumper cover was painted black. Since the grille (from a '92) is black, kinda helps things blend in. At least until I get the whole car done. | Took the rear bumper cover and support off so I could replace the bumper shocks. | The old shocks are on the inside, replacements outside. Yikes! I thought they were supposed to pop back out. |
| Note to self: Include wasp and hornet spray in next project budget. | Still fighting with the passenger side here but cover is on. You can see how the color doesn't match, guess mine's pretty faded. | Got the headlamps installed. Turns out the previous owner had used some cheap chinese lamps and sockets so I've got some OEM sockets on the way along with a license plate bracket. |
| My first mod! Cut the air cleaner support to allow better breathing | Front end done! Mod 2, euro clear corners. Not sure how much I like them at this point, we'll see. | Project CC lives!! I got a battery installed. He turned over a few times and fired right up. I love these cars! Had a bad front parking/signal socket so replaced that. Everything including the A/C is functional. |
| Replacement tailgate installed! Four new tires and a new windshield have been added too. | This will be the next major undertaking. I have a perfect quarter from a 92 CC. | For now, I'll just enjoy driving him around locally. |
---
And the project continues..............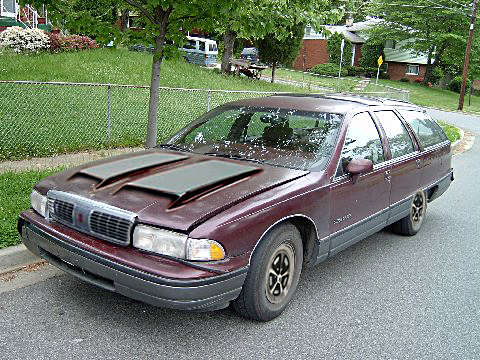 A possible future for Project CC?
---
© Copyright 2005-2009 Michael Prosise. The materials contained on this site may not be duplicated, or reproduced without the express consent of the owner.
Email me to report broken links, page errors, etc.