1992 Oldsmobile Custom Cruiser
'Blue Two'
---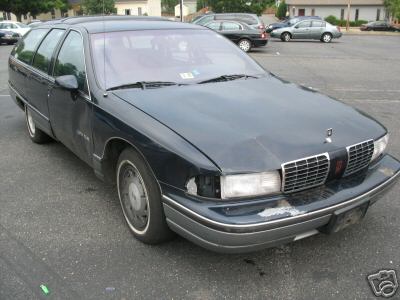 I am constantly searching eBay and other sources for wagons. This should, of course, come as no surprise to anyone reading this site. Well, in August of '07, I came across a reposessed 92 Crusier being sold at a "Buy here, pay here" dealer in Fredericksburg, only an hour and a half from me. Taking a look at the pictures and the description of the car I figured it would make an excellent parts car what with it being the same color as mine and such. The seller listed the car as a 5.0 liter V8 and, in these cars, that is a bit underpowered. Thus I didn't see much value in fixing and reselling it what with the sheet metal damage visible from the pictures.

So I bid on the car and was outbid near the end. I felt that $400 was all I wanted to pay for a parts car and the other bid about $50 higher. The next day I received an email from the seller. Apparently the winning bidder backed out, stating that the car was 'too far away to get'. Now tell me, how stupid is that? I mean, the location of the car is clearly stated in the auction? Dumb buyers. Anyway I was offered a 'second chance' at my last highest bid and accepted.

My sister agreed to help me "relay" the car back home. So I drove the hour to her place and she rode me the remaining half hour to Fredericksburg. I paid for the car, jump started it (read more later) and drove it the half hour back to her house with no problems. I left the car there and went home. The next day, my sister was kind enough to drive the car to my Mother's house, a little out of the way but a good location to store the car until I could get it home. The wagon sat a Mom's house for several weeks. On Labor Day weekend, I went to the house, installed a headlight (so I could drive home in the dark), jump started the car again and drove it the hour home.

End of the story? Stripped it for parts? No and NO! I, at the time, was stripping a 1996 Cadillac Fleetwood for parts so the Crusier was parked in the driveway until that project was done. Well my goal of finishing the Fleetwood by Thanksgiving was more or less met. So the Fleetwood hulk was hauled away and I rolled the Cruiser into the garage to begin looking it over. Well the first thing I found was that the car is not the 5.0 liter V8 but the, more powerful, 5.7 liter. Yippie! I crawled under the car a bit and the undercarraige showed almost NO signs of rust! This was certainly no 'rust belt' car. I then began to inventory what was wrong with the car. I found a number of issues but nothing which would cause me to want to strip a car that was looking increasingly like a nice fixer-upper or at the very least a decent beater car.

So based on what I have found so far, yes I'm still looking, I plan to keep the car as a replacement for my Roadmaster which is rusting itself away to nothing. Read on below for the ongoing saga!

Click the image for a larger version.
Thanks for looking!
Mike
---
| | | |
| --- | --- | --- |
| Not exactly a beauty shot here. But this was my first view of BlueTwo. Headlight on the passenger side is broken due to some sort of impact. I had to replace it before driving the car from my Mothers house to mine. | Please note the alternator here. A quite ingenious previous owner (remember, repossesed car here) used a chunk of wood to keep the belt tensioned after somehow breaking the bracket. | This is a picture from the eBay auction. It caught my attention because this car has the little sunshades for the Vista glass. I have never seen this on a 91-93 wagon nor have I seen it as an option in the literature I have. Must look further into this.... |
| Certainly 'BlueTwo's better side. The weekend after he arrived home, I spent several hours cleaning all of the junk out of the car (again remember, repossesed). It was amazing the junk and stuff I found in here. Fishing pole, single jack stand, CD's, condoms (unused thankfully). | I then vacuumed the interior and gave the exterior a good washing. Same angle as that eBay picture above. Washed, new headlight and marker light. Different look huh! | Not really sure what happened here. Impact was high enough to save the bumper, thankfully. Perhaps deer impact or something of the like. Doubt the hood is salvageable but I'll let my body shop figure that one out. Oh! Grille intact, yippie! |
---
...and repairs begin..
'Blue Two'-- Roadworthy?
| | | |
| --- | --- | --- |
| First repair. I got tired of the rear glass hitting me on the head. So two brand new struts. Saves so much money on asprin... Note the door panels. Three of the four power windows did not work properly. Two will need new motors, the third, just the standard roller replacements. | No tears in these seats but there is something ground into the fabric. Not sure it will come out. I recently acquired an interior from yet another blue cloth Cruiser. So it's seats will replace these. Barely visible near the drivers left foot area is a hole in the carpet about the size of two dollar bils. | Rear seat out and various parts laying around the car. Renovations begin! |
| The carpet from 'Blue' lies on top of 'Blue Two'. It will be cleaned and installed to replace the nasty hole carpet in the car now. | Not perfect by any stretch but much cleaner. Temperatures dropped (well it is December) and it took an entire week for the carpet and padding to dry. | I decided to put down some sound deadening before reinstalling the carpet. My first attempt at 'Dynamat' installation. Certainly not professional quality but should help with the road noise quite a bit. |
January 2008 - Present

| | | |
| --- | --- | --- |
| Both rear brakes were shot. So I rebuilt them. New wheel cylinders and a system flush have been done too. | Figured I may as well put some new drums on too. A little satin engine paint to make them look nice. | 'New' carpet installed as well as a replacement set of seats. Not perfect but much better than the originals. Also installed Dynamat on three of the four doors (ran out of material) and installed a new pair of Boston 4X6 speakers in the front doors. |
| I really liked the look of the truck wheels that came with 'Blue' so I decided to put them on 'BlueTwo'. Here they are installed. | While I was working on the passenger door, I got about 75% of the dent out and installed a spare piece of cladding. Looks much better this way. | 'Blue' and 'BlueTwo' side by side. |
As of March 2008, both engine accessory brackets as well as the serpentine belt have been replaced too. 'BlueTwo' is officially road legal! The hood was swapped during the summer of 08 with the original (and dented) hood from 'Blue'. Not perfect by any means but it will suffice until I decide whether 'BlueTwo' gets repainted the original color or something else. I also bought another box of 'bulk' Dynamat Extreme (man that stuff is expensive!) which I used to finish off the entire cargo area. I have just enough left to do the right rear door too once things warm up. This made a huge difference in reducing the road noise inside the car.
| | | |
| --- | --- | --- |
| I acquired from a Forum member, a set of cloth front seats from a Bonneville as well as a Blazer center console from another Forum member. Here they are installed, much more comfortable than the stock seats. | I had my set of SStreetlights from the old Roadmaster sitting in my shed. I figured I might as well get some additional use out of them. So I fixed up the problem with the parking lights and installed them in BlueTwo. | If you noticed in the previous picture, the clear corner lamps have a hole in them. Well BlueTwo doesn't have the cornering lamps which would go in the hole. So I found a couple bulb sockets from my Caddy parts car and wired them in with the turn signals. I now have some seriously bright corner turn bulbs! |
| 'Blue' came with some nice suspension goodies. However since my plan for the car is an original restoration, those parts don't make too much sense. Thus my first step was to swap the front swaybars between the cars. Here you see the OEM bar (bottom) next to an F-Body bar which is now installed on 'BlueTwo'. | More stuff coming soon.... | More stuff coming soon.... |
---
© Copyright 2008-2009 Michael Prosise. The materials contained on this site may not be duplicated, or reproduced without the express consent of the owner.
Email me to report broken links, page errors, etc.