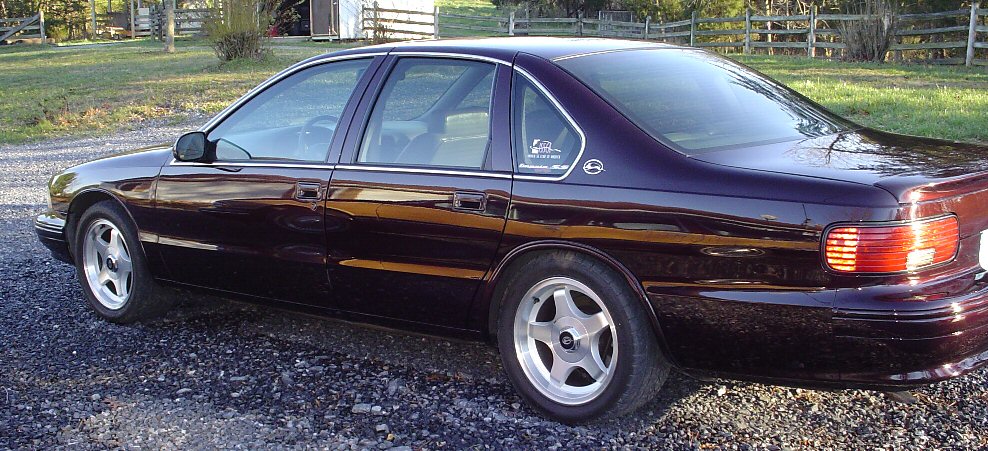 With much reluctance, I have decided it's time to sell the Impala. This is one of my dream cars, thus I have not come to this decision lightly. However, owning a car and not driving it simply does not sit well with me, additionally, my resources are spread thinly with other projects and I don't want to see her just sit. To get you started, I have a lot of high resolution (large) pictures which are not all posted on this page for bandwidth reasons. Click here to see the pictures.
I am the second owner of the car, although CarFax shows several dealer title transfers between the original owner and myself. CarFax also shows one accident from the previous owner though I don't know how extensive it was. I was also involved in one accident with the car. It was completely repaired by a quality body shop.

I purchased the SS in September of 1999, at which time it had approximately 34,000 miles on it and was still under factory warranty. It was garage kept from that point until I moved to my current home in June of 2003. At that time, I purchased a high quality all weather cover and have kept the car under cover until this past fall (2006) when our garage roof was finally completed. The car has never been my daily driver and has been driven in wintery weather once or twice only since my purchase. Current mileage on the car is a bit over 77,000 (see picture for current mileage).

I have taken very good care of this car. I began using Mobil1 engine oil around 36K miles and have used nothing else since. Everything on the car works. There are no problems with the transmission. The engine runs beautifully. The A/C blows cold and there is plenty of heat when needed.

The paint on the car is approximately 50% original with the remainder repainted due to the aforementioned accidents. The known repainted areas are the drivers side rear door, drivers rear quarter, trunk lid, rear bumper and front bumper. As the hood is original paint, there are some rock chips in the paint. I have touched them up using the GM touchup kit but if you look, you can find them. There is a minor scuff on the front bumper on the passengers corner from a rub with another car.

As always with older cars, the SS needs some work. My list of things to fix is:
There are some remnants of a stain under the passengers front seat.
The drivers seat has a small tear in the leather and shows some wear on the back.
Though one can never predict the collectability of a car, I've tried to make modifications that can be reversed should the value of these cars skyrocket. Here is a listing of what I've done:
BFG G-Force T/A KDW 285/40WR17 performance tires
Mezeire electric water pump w/ failure warning system and 160 thermostat
Custom ECM programming by Brian Herter of PCMForLess
SEO front brake vents
Brake bolt mod (corrects front/rear brake proportioning)
cross drilled/slotted front rotors w/ extreme duty pads
MOOG heavy duty idler arm and center link
Black Impala floor mats from the Impala Superstore
Window tinting, 35% rear, 50% front (Virginia legal percentages)
SS Wheel spare. This wheel was bought brand new, it and the tire have never been used.
SSLed Red/Blue Bowtie
Blink-Blink sequential tail lights
Custom accessory switches. Top switch is for the SSLed Bowtie, center switch is currently unused, bottom switch overrides the power antenna for the radio.
Rear license plate bracket and ECM case powdercoated gloss black
Alarm system. Disarms using the keyless entry fobs
---
If you are unfamilar with the 94-6 Impala SS or similar generation b-bodies, I suggest checking out the following resources. There is a wealth of information on these cars here:
---
© Copyright 2005-2008 Michael Prosise. The materials contained on this site may not be duplicated, or reproduced without the express consent of the owner.
Email me to report broken links, page errors, etc.