I've always had a passion for cars. I grew up with and learned to drive on my Dad's truck, a 1978 Ford F-150 with a 460 big block. My first car was a 1974 Chevy Nova. It had a 350 which I rebuilt I also did body work and painted it twice. I guess my Dad got me interested and involved in car stuff when I was a youngster. He showed me how to change oil and other maintenance on our cars when I was growing up. My tastes in cars has varied over the years but I still most enjoy the classic American Muscle Car.

I've put this page together to, more or less, document my cars and such. Enjoy!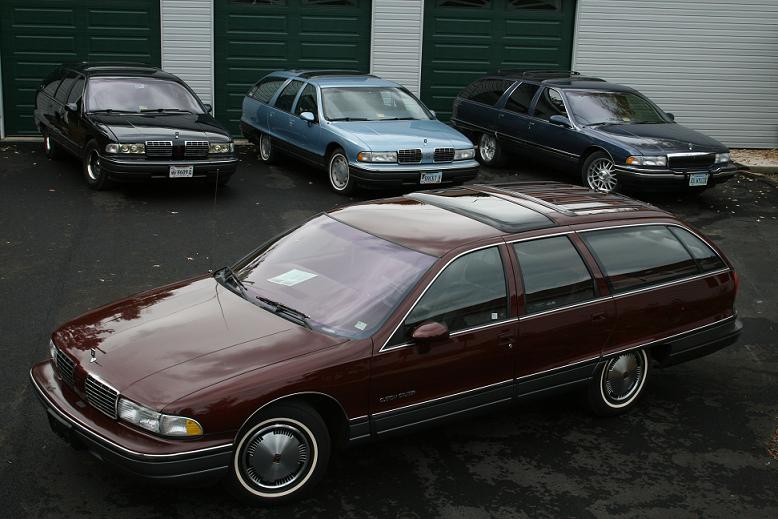 ---
The Current Fleet
| | |
| --- | --- |
| 1992 Oldsmobile Custom Cruiser 'Red' | 1992 Oldsmobile Custom Crusier 'Blue Two' |
| 2009 Cadillac STS | 1995 Chevy Cheyenne 2500 |
---
Previous Rides
1974 Chevy Nova (my first car) Fall 1987 - Summer 1995
I'll post more of these later. For now, here is a picture taken with a couple friends and I with my Nova and a bike.
1970 VW Type III Fastback
I was never able to even get this car on the road. I really liked it though. It had electronic fuel injection, front disk brakes and a fully automatic transmission, in 1970! I haven't found any pictures of the car yet but I know I've got them somewhere.
1972 VW Beetle
Yeah, I actually had a Bug. It was fun to drive, I rebuilt the engine and had the seats reupholstered. Never got the body work done, it looked pretty rough.
1992 Chevy Cavalier RS Covertible Spring 1993 - Spring 1994
Unfortunately, I don't have any pictures of this car, only had it for a year and traded for the '93.
1993 Chevy Cavalier RS Convertible Spring 1994 - Summer 1995
I wish these had come out better (and weren't so old). I took two pictures of my '93 Cav, the '74 Nova and my Dad's '57 BelAir. Cool lineup, 50 years of Chevy evolution!
Chevy's 1
Chevy's 2
1989 Pontiac GrandAm LE Summer 1995 - Spring 2000
Not a particularly sexy car but it was incredibly durable and kinda fun to drive.
GrandAm 1
GrandAm 2
1965 Chevy C10 Pickup
This pickup was given to me by a friend of Dad's. I didn't have it for too long as I never really had the money to restore it. It was fun to drive though, had a V8 and a 3 speed column mount shifter.
This is a really good shot of it in front of my Grandmothers barn.
1989 Oldsmobile Cutlass Supreme Spring 2000 - Spring 2001
No pic's of this one either. I liked this car but it was a bit of a lemon.
1994 Ford Taurus LX Wagon Spring 2001 - Fall 2002
I bought this car from a neighbor and drove it for a couple years. I really enjoyed it. I could haul just as much as one of those SUV things and it got way better mileage and handled quite well for a wagon. I gave it to my Mom when I bought the 2002 Alero.
Click here for a front shot taken Summer 2004.
This is a rear quarter view, you can see the Impala parked next to it.
2002 Oldsmobile Alero GLS September 2002 - January 2006
Well finally sold the Alero. A close friend of mine bought it and you'll possibly see it tooling around the Detroit, MI area.
We drove up Skyline Drive the day after Thanksgiving 2003, boy was it foggy!
1991 Oldsmobile Custom Cruiser May 2005 - August 2006
I got "Project CC" roadworthy which was my original goal. Now that I've begun restoring 'Blue' I really don't have more time for the 91. A friend of mine wanted it so she is now using it as her daily car.
If you would like to read the history of "Project CC", click here.
1996 Buick Roadmaster Estate Wagon Limited September 2004 - August 2007
What a great car this one has been! Bought with 180K on the clock and sold with over 242K. Put some money into it, sure. But he took me wherever I needed to go, never died on me once. But it was time. He Was starting to need some repairs that I simply felt weren't worth the money. So I traded it in at North Star for another 96 Roadmaster with half the miles (and a bit more rust). I'll keep the original pictures and page here for your reading pleasure.
1992 GMC Sierra SL 1500 May 2005 - July 2007
Another incredible vehicle. Purchased in 2005 and I've done absolutely nothing to it other than gas, oil changes and a set of wiper blades. But we found a 3/4 ton V8 pickup which is really more suited to our needs. Good bye to a great pickup!
1996 Buick Roadmaster Estate Wagon Limited July 2007 - March 2008
I had never really intended on keeping this car for a long time. Longer than eigth months though! Since Fred found a heated cloth wagon for me, one had to go and this made the most sense. I'll keep the original pictures and page here for your reading pleasure.
1995 Cadillac Fleetwood Brougham October 2006 - June 2008
Well, with fuel prices at the $4/gallon mark, I reluctantly decided that I should have at least one smaller car in the fleet to save a little bit on gas. I'm not quite ready to do the four cylinder thing so a V6 was the goal. As I just don't care for front wheel drive cars, I started researching rear drive V6 cars. Surprisingly (or perhaps not so surprisingly) there aren't that many available used that aren't 20 years old. So I started looking at used Cadillac CTS cars. I ended up finding one that was very well priced and appeared to be well cared for. So I made the trade. While I'm quite sad to see the Fleetwood go, despite the many repairs done on the car, it will be nice to have a slightly smaller gas bill. I'll miss all that chrome though! Click here to see the archived page of my Fleetwood.
1996 Chevrolet Impala Super Sport September 1999 - June 2008
You can go here to see the archived page of (formerly) my SS. I will truly miss this car. I've owned it longer than any other and have many fond memories. The SS started my interest in the final iteration of GM's B-Body line. I still have three of them. But as time moved on, I just drove the car less and less. So in the interest of allowing another enthusiast to enjoy the car, I knew it was time to sell. May the new owner have as much fun and enjoyment as did I!
2004 Cadillac CTS June 2008 - July 2009
Well, I was able to trade the CTS in for a brand new Caddy. My first (and probably last) brand new one. I didn't do much to this car but here here is it's page for archive.
1992 Oldsmobile Custom Cruiser January 2006 - August 2009
'Blue' was to be a restoration project which just got side tracked too many times. Here is the build page that never quite got finished. The car is soon to be off to Canada for it's next life!
1991 Oldsmobile Custom Cruiser May 2009 - October 2009
Well, I just got 'BabyBlue' on the road and had to let her go. With the acquisition of 'Red' I just couldn't keep both. I was able to work out a good deal and 'BabyBlue' is enjoying her new home in South Carolina.
1978 Ford F-150 June 2007 - October 2009
Letting this truck go was a difficult decision for me. My Dad ordered this truck brand new, both my Sister and I learned to drive on it. I wanted to do a full restoration on the truck but time, money and other projects just kept pushing this down on the list. It's now safely in the hands of my Sister and her family. They are already working on getting the truck back up to snuff. The very brief web page I built for it can be found here.
1996 Chevrolet Caprice Estate September 2008 - July 2011
I got the Caprice running and enjoyed driving it around some. But the work required to really fix up a car this rare was not within my budget and time allowance. So the decision to let him go was made. For posterity the page is here.
1996 Buick Roadmaster Limited February 2008 - September 2011
I really enjoyed this car, it was problem free and took me all over the place. Of course being a rare bird made me enjoy him all the more. However his age and northern roots were starting to show. Another case of too much interest and not enough money or time. I hope the new owners get plenty of great memories and much use from him. The Roady's page can be found here.
---
Car Nut Links
---
© Copyright 2004-2010 Michael Prosise. The materials contained on this site may not be duplicated, or reproduced without the express consent of the owner.
Email me to report broken links, page errors, etc.